Small campsite with pool
Camping on a small cosy family campsite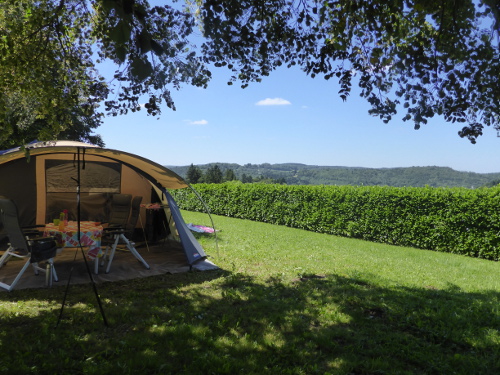 True camping at Camping Le Plô in the south of France, the Tarn, the Midi-Pyrenees and the nature park the Haut Languedoc. You will find lots of space and a great view of the beautiful green surroundings. The campsite is unique for its park-like construction with a great variety of trees and the beautiful clear layout (map).
Camping Le Plô is a small campsite with great facilities. On the photo you can see our pool (6 meters wide, 11 meters long and 1,35 meters deep). We also have a wonderful paddling pool (oval shaped, 5 meters wide and 8 meters long) with small slides and a little waterfall.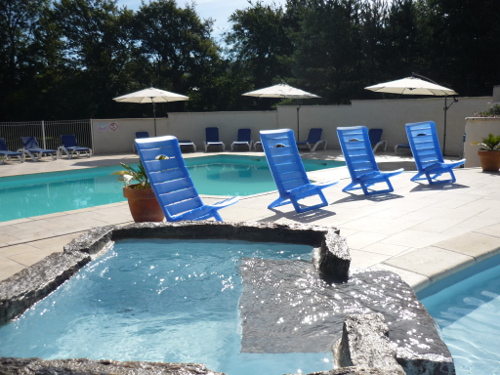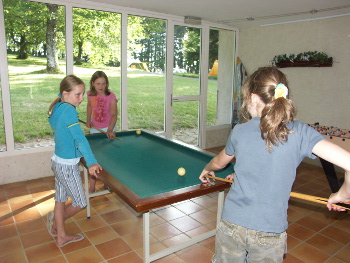 For your entertainment we've got many other facilities. In the annex building you will find an entertainment space with a pool table, table football and board games. Guests can also relax and enjoy a book here. Should it be bad weather, you can have breakfast here. We can even light the fire in the fireplace to make it more comfortable.
Young and old can enjoy the two large trampolines on the playing field! You can play soccer, basketball, volleyball and so on. Kids love organizing tournaments and we support that! For the little ones, we have created a special fenced play area, were they can safely play together.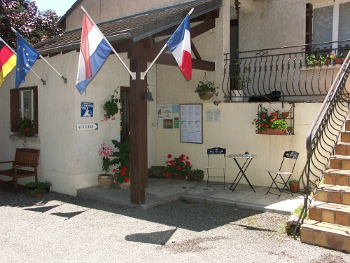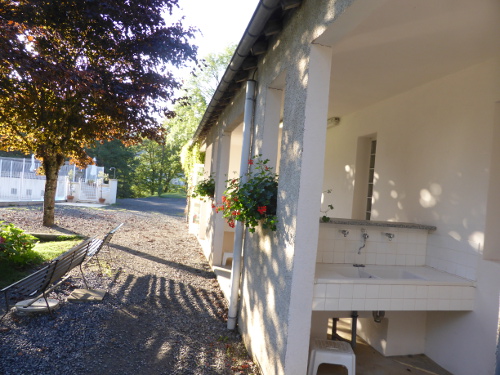 At the reception you can order fresh bread every day in mid and high season. From 1800 hours you can order a snack, a salad and/or a pizza. We also sell ice creams, wine, milk, candy and postcards. At the reception you can freeze your cooling elements, or if you want just a little more luxury, you can hire a refrigerator! We have collected lots of information about the surroundings and you are more then welcome to have a look to get ideas on what to do. In front of the reception there is a terrace where you can have a drink and enjoy the radiant Southern French sun.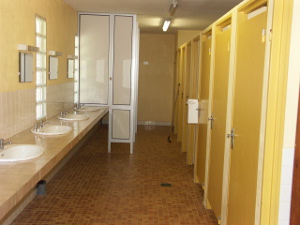 The annex building is central in the site and contains the toilets, sinks, showers, washing machines and dryer and the entertainment space for the guests. The building is thoroughly cleaned daily and is checked at least once in addition.
Showers are free of charge and are operated by a push button. With a push on the button you get a few minutes of nice hot water on a self-adjustable temperature. There is a family/disabled room where you can change and shower or bath your little ones.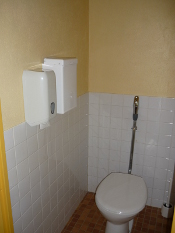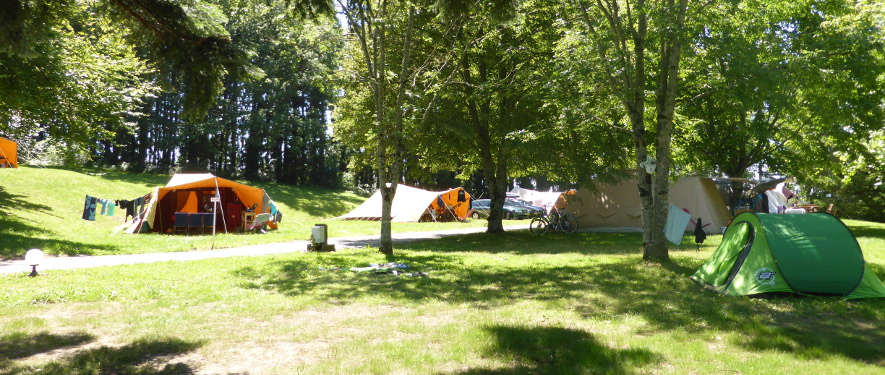 The camp-site has 62 spacious places, from 90 m² to 155 m² (map). The camp-site is situated on a hill. There are nice, levelled terraces for the places and this combination leads to a nice open and clear view. The wonderful variety of trees completes the picture and provides for a sufficient amount of shade. The places are numbered with real granite from the Sidobre and not separated with ugly hedges, but nice open and spacious.
Connections to the mains are available on all terraces with a strength of 6 amps, representing approximately 1380 Watt (French connection, two holes and a peg in the middle). The terrain has minimal light exposure in order to be able to enjoy our beautiful starry sky. There is a low placed light at the beginning of each path and the sanitary building is well lit, so you will always find your way in the dark.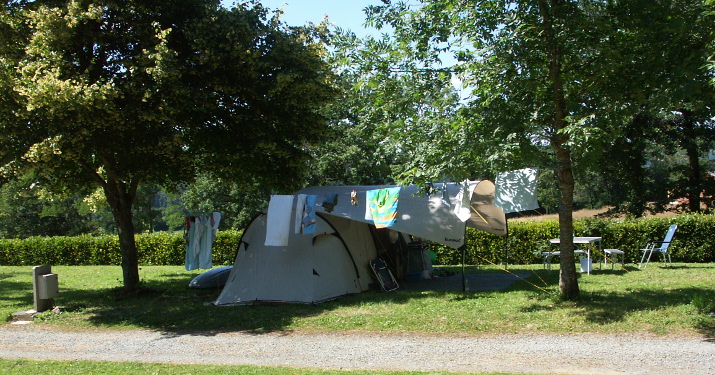 Spread on the terrain there are water taps, to make sure you don't have to walk far to refill your water supply or to wash your hands. The water at the camp-site is spring water from the municipality and lovely to drink!
For your comfort you can rent a tent (Karsten or De Waard), a caravan, refrigerators, camping cots, baby chairs, mountain bikes, go-karts, and so on. Have a look at the rentals page for more information about renting.
In short: if you love small-scale camping in a tent, caravan or camper in France at a nice, small, child friendly campsite and you are looking for peace and quiet in a beautiful natural green environment, you've come to the right place!